Titan Premium Classroom Furniture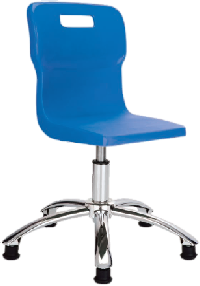 At SchoolCare we know a great product when we see one and, whilst furniture has not in the past been one of our core products, the superior quality of the Titan Premium Classroom chairs, desks and tables has really grabbed our interest as it will perfectly complement our ICT products.
The Titan Furniture Premium Classroom furniture and chair range has been designed with full use of the latest technologies and standards to address the quality of posture, comfort, safety and strength. The company's faith in their product is reflected in an excellent 15 year guarantee given for all their product range.
The comprehensive range of premium classroom furniture includes one piece classroom chairs, four leg chairs, Titan Swivel Chairs, high level stools, exam desks, adjustable height desks and accessories.
The Titan Premium Classroom Chair, desk and table range includes some of the examples below:
Titan One Piece Classroom Chair

Titan Four Leg Classroom Chair

Titan Classroom Stool

Shell Colours available:

Red
Blue
Yellow
Green
Charcoal
Grey
Burgundy
Recycled Black

Titan Swivel Classroom Chair

Titan High Classroom Chair

Shell Colours available:

Red
Blue
Yellow
Green
Grey
Charcoal
Lime
Orange
Sky Blue
Burgundy
Recycled Black

Titan Premium Classroom Furniture Exam Desk

Request a Quote

Titan School height Adjustable Classroom Desk

MDF Edge Laminate tops available in Beech, grey and blue form stock for immediate delivery
For more information or to request a quote for any of the products listed above, just contact SchoolCare on 03332 402626 today!
SchoolCare – one of the South of England's leading provider of Titan Premium Classroom Furniture.
Areas covered include Bedfordshire, Berkshire, Buckinghamshire, Cornwall, Devon, Dorset, Essex, Gloucestershire, Hampshire, Hertfordshire, Kent, London, Oxfordshire, Somerset, Suffolk, Surrey and West Sussex, East Sussex and Wiltshire.