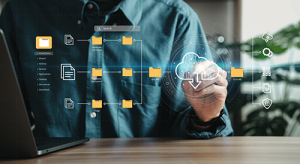 Cloud Backup Solutions for Education: Secure, Reliable, Essential
In today's interconnected world, the significance of cloud backup solutions for education cannot be overstated. As educational institutions increasingly rely on digital platforms to manage coursework, student data, and administrative records, ensuring the integrity and security of this data becomes paramount. At SchoolCare, we specialise in offering premier Cloud Backup Solutions for Education, tailored to meet the unique needs of schools and educational institutions.
Why Your School Needs Cloud Backup Solutions
In an era where educational materials and student work exist primarily in digital spaces such as Microsoft 365 and Google Classroom, data is among a school's most valuable assets. Here's why opting for Cloud Backup Solutions for Education is vital:
Comprehensive Protection: SchoolCare's backup services safeguard all your educational data, from lesson plans in Google Classroom to staff records in Microsoft 365, ensuring everything is secure and retrievable.
Seamless Recovery: In the event of data loss, our system ensures a smooth, hassle-free recovery process.
Reduced Data Loss Risks: Our offsite backup solutions protect your data from both digital and physical threats, such as cyberattacks or natural disasters.
Microsoft 365 and Google Classroom Backup: A Modern Necessity
While Microsoft 365 and Google Classroom are invaluable tools for contemporary education, they are not immune to data loss risks. Backing them up is non-negotiable, and here's why:
Data Retention: These platforms offer some level of retention, but it's not equivalent to a true backup. Our backup solutions guarantee you have a complete, easily accessible copy of your data.
Compliance & Standards: SchoolCare's backup solutions ensure you are always in compliance with data retention regulations specific to educational institutions.
Peace of Mind: With reliable backup solutions, educators can focus on teaching, knowing that essential data can always be restored.
Why Choose SchoolCare's Backup Solutions?
Designed for Education: Our cloud backup solutions are crafted specifically for the education sector, addressing its unique challenges.
State-of-the-art Security: Employing the latest encryption and security protocols, we assure that your data is both backed up and protected from threats.
Expert Support: Our dedicated team provides top-notch support, from setup to recovery, every step of the way.
Opt for Excellence with SchoolCare
The educational landscape is rapidly evolving, and with these changes come both opportunities and risks. Don't leave your school's data exposed to potential loss. Choose SchoolCare's Cloud Backup Solutions for Education. It's not just about securing data; it's about safeguarding the future of education.