UV-C Sterilisation solutions from SchoolCare based on the SchoolSafe platform.
SchoolCare, along with market leading European manufacturers are proud to launch an addition to the SchoolSafe platform offering a centralised air and surface sterilisation solution for schools.
With the Covid-19 pandemic showing no sign of abatement, solutions helping to provide peace of mind for teachers and students are very important.
As a diverse and proactive supplier, SchoolCare have their finger on the pulse of product development and have work with market leading European manufacturers to develop a solution to help schools manage their infection control protocols.
Boston University carried out the successful experiment of neutralising the virus (SAR-CoV-2) that leads to COVID-19 disease. The Study neutralised the virus using a UV-C light to disinfect the area infected with SAR-CoV-2 virus (Covid-19) to a dose of 6mj/cm2. UV-C light has long been known to represent an effective solution to disinfect surface, due to it's ability to destroy virus' and denature bacterial pathogens.
Put simply the UV-C light can be used to sterilise surfaces in as little as 15 minutes, up to 99.9%. The SchoolSafe solution provides maximum safety and flexibility when deploying a UV-C disinfection routing, offering centralized web based scheduling of sterilisation routines, as well as both visual and audio alerts of the sterilisation process. This is critical as exposure to UV-C light is harmful.
The UV-C sterilisation platform is based around a European designed and manufactured dual mode lighting unit, which can also be deployed as part of an LED lighting upgrade, to further save costs. The UV-C element of the light fittings is based around Philips Tubes (for maximum reliability) and is wired and controlled independently from the LED element. This combined with an occupancy sensor ensures that the UV-C lamps cannot be triggered inadvertently.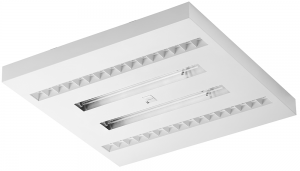 SchoolCare have developed the disinfection platform as part of a 2 pronged approach; UV-C based surface sterilisation allows a regular automated nightly disinfection to be performed with no user intervention when the school is empty (eg at 2am).
The second prong to this approach is UV-C air sterilisation. Using simple, sleek and safe wall mounted air sterilisation units, large volumes of air are quietly circulated through the units, where it is exposed to UV-C light. The units are completely sealed, ensuring no light escapes, whilst ensuring treated air is as clean as possible.
This approach tackles both airborne and surface pathogens. It is worth noting that solutions such as this are designed to tackle not only Covid-19 but other bacteria and virus', helping minimise illness and maximise attendance of both staff and students alike.
Because the solution has been designed and built to include high performance hardware from Philips, the lamps do not produce ozone, this is an important consideration when deploying a safe and effective solution.
SchoolCare offer a range of complete solutions to help schools manage their infection control protocols, as well design and implementation services but our NIC/EIC accredited electrical engineers.