Cutting Telecommunication Costs and Improving efficiency with Voice Over IP for Schools (VoIP)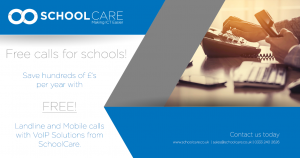 Voice Over IP (VoIP) is the action of routing voice data from its origin to its destination using an IP-based network, such as the internet. In simple terms, VoIP is making telephone calls over the internet.
SchoolCare has been involved in Internet Telephony for the past 5 years and during this time has developed a "Best of Breed Solution", by cherry picking the best services and hardware platforms in the market today.
SchoolCare can provide a complete managed Service by providing:
Analogue Lines
Broadband (via ADSL/SDSL or Leased Line connection)
PSTN Network Termination
Number porting
SchoolCare can ensure they are in control of every aspect of your communications path and, coupled with a sophisticated pro-active monitoring and alert system, can react quickly and efficiently in the event of a failure along this communications path.
SchoolCare are, of course, happy to provide any and all aspects of their communications portfolio to schools large and small, but in order to provide the complete "package" we make all services available to our customers.
Why Use Voice Over IP for Schools?
Compared to a traditional phone system there are many benefits to installing a VoIP telephony solution at your school the main benefits include:
Reduced running costs – Depending on your existing phone system setup a VoIP-based telephone system could reduce the school's ongoing monthly costs.
Efficiency – Our hosted VoIP solution includes many out of the box features which normally be classed as "optional extras" for a conventional phone system. These features include on-hold messages, voice-to-email, Caller ID, call forwarding, call sharing. SchoolCares installation services will ensure that your phone system works for your schools; not your school working within the restrictions of your telephone system!
Scalable – Hosted Voice over IP for schools is very scalable with the ability to easily increase the number of users, add new  features and the ability to add extensions in any location with an internet connection.
SchoolCare – one of the South of England's leading provider of Voice Over IP for Schools and IP Telephony systems.
Areas covered include Bedfordshire, Berkshire, Buckinghamshire, Cornwall, Devon, Dorset, Essex, Gloucestershire, Hampshire, Hertfordshire, Kent, London, Oxfordshire, Somerset, Suffolk, Surrey and West Sussex, East Sussex and Wiltshire.