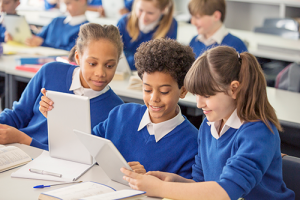 Unleash the Power of Tablet Based Learning Solutions with SchoolCare
Welcome to the Future of Education
Discover how Tablet Based Learning Solutions are changing classrooms worldwide. SchoolCare is here to guide your institution through this transformative journey.
Revolutionise Teaching and Learning
✓ Engaging Experience: Immerse your students in the interactive world of Tablet Based Learning Solutions. Explore educational apps that inspire curiosity and elevate understanding.
✓ Personalised Pathways: Tailor education with the adaptability of tablets that allow you to customise resources for every learner.
✓ Accessible Anywhere: Learn on-the-go with the unparalleled portability of tablets that put learning resources at your students' fingertips, wherever they are.
✓ Collaborative and Connected: Foster teamwork with tools designed for group projects and real-time collaboration.
How SchoolCare Makes Tablet Integration Seamless
Streamlined Device Management: Partner with SchoolCare and leverage world-class tech solutions like JAMF, Apple School Manager, and Microsoft InTune, which are essential components of any tablet deployment.
Unified Educational Ecosystem: With SchoolCare's platform, managing student accounts, classes, and content is a breeze.
Secure and Compliant Solutions: Trust in the cloud capabilities of Microsoft InTune, a cornerstone to maintain tablet security, on or off-campus.
Building Tomorrow's Digital Literacy: Prepare students for a digital-first world and empower them with essential tech skills for the future.
Sustainable and Smart: Adopt a green school model by minimising paper usage and embrace digital assignments and e-books.
Discover SchoolCare's Tablet-Based Learning Solutions
Ready to elevate your teaching and learning experience? Contact SchoolCare today to learn how our Tablet Based Learning Solutions can transform your educational environment.