Interactive Displays vs Traditional Interactive Whiteboards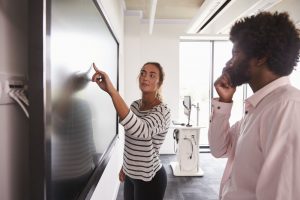 Interactive Whiteboards are part of the furniture in most classrooms these days and are beginning to reach the end of their usable lives. Over the years they have faithfully delivered a wealth of interactive content to classrooms up and down the country, but are not without their drawbacks;
• Projector Lamp Life and Cost – Projector Lamps are expensive and have a finite life span. Most projector lamps are replaced annually at around £250.00 per lamp, with projectors themselves having a typical lifespan of 3-5 years.
• Projector Cleaning – Projectors need to be cleaned regularly, which can be a logistical issue for schools, as most ceiling projectors need to be reached on a ladder which poses Health and Safety consideration for schools. Failure to clean projectors regularly causes issues with image clarity and lamp life.
• Limited Connectivity – Most projectors use an analogue VGA input, which has served the needs of the IT industry well supporting up to 1920×1080 Full HD resolution. Most modern PCs and Laptops do not support the legacy VGA standard and require adapters to be able to connect to older projectors.
• Brightness Issues – Many projectors struggle in bright classrooms, causing teachers to draw blinds in order for the board to be seen during the day. Brighter projectors are available, however these pose Health and Safety issues themselves, especially with the transmitted blue light portion. Ultra Short Throw projectors have become more popular in recent years, but these still cause issues with shadows when using the board.
In recent years Interactive Displays vs Traditional Interactive Whiteboards have started to represent a better value, long-term investment for a school compared to a traditional Interactive Whiteboard. Although the initial capital cost to purchase an Interactive display may be higher than the cost of an Interactive Whiteboard, the longer lifespan and lower running costs, represents significantly better value and lower total cost of ownership.
The deployment of Interactive Displays has gained significant traction in the last 18 months for a number of reasons:
• No Projector Lamps – Interactive displays use the latest LED/LCD technologies and require no lamps. Displays are typically sold with 5 year onsite warranties and have a projected life span well beyond this. They also use less power too, further reducing their running costs.
• Better Connectivity – Most Interactive displays feature 2-3 HDMI ports as well as in some cases legacy VGA connectivity, to ensure that hardware old and new can be used.
• Better Brightness and Viewing Angles – by design LED/LCD panels give significantly brighter images, meaning they can be clearly seen from the back of the classroom, even in bright conditions. Also by design, Interactive displays don't have shadowing issues when stood in front of the display, allowing the teacher to see what they are writing on the board.
• Better resolution – Interactive displays commonly support resolutions up to 4K, ensuring they support the later generations of PC and Laptop hardware which are coming to market using this native resolution.
The resolution of Interactive Displays vs Traditional Interactive Whiteboards is typically more than the resolution of Interactive Whiteboard. Interactive displays come with either HD or 4K resolutions. Interactive Whiteboards decrease in their brightness as the projector bulb lamp hours increase. They also have problems with glare, and can cause blind spots, due to shadow. Interactive Displays will never decrease in brightness or have shadows as there is no projector or lamp and the displays come with anti-glare glass as standard which will ensure a worthwhile school investment.
Contact SchoolCare today to see how we can help with the benefits of having Interactive Displays vs Traditional Interactive Whiteboards in the classroom.