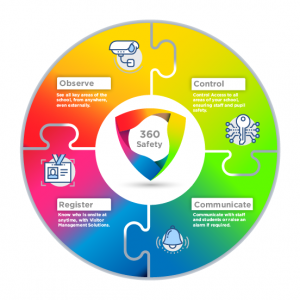 In today's modern social climate, Schools are having to take extra measures to prepare for an emergency. Schools all over the UK need to be prepared for a situation either inside or outside of the school, which potentially threatens the safety of staff or students. This sort of event can be something as simple as a disturbance outside of the school such as a stray vicious dog or a terrorist attack.
Ofsted are also starting to asses not only on the school's values, abilities and results from pupils but also on the school's security and physical safeguarding procedures. This type of inspection criteria is becoming more prevalent and is surely only a matter of time before Ofsted make physical security, CCTV and emergency contingency systems a formal assessable protocol.
Schools need to create preparedness plans and protocols for the entire school site so staff and students know what emergency procedures to implement in the event of a threat to pupil and staff safety.
At SchoolCare we understand that schools are under increasing budgetary constraints and are struggling to fulfill the forthcoming requirements that Ofsted are introducing. All the 360 Safety solutions from SchoolCare are designed to make use of existing networks to minimise the costs and to ensure flexibility.
The principle of 360 Safety in education has been developed by SchoolCare and focuses on how key technologies can be deployed cost effectively and integrated together to ensure the safety of staff and students.
360 Safety in education is based on 4 key safety principles.
Observe – Know who and what is around the school, by recording and monitoring the environment
Control – Ensure the environment is secure, without impeding access for appropriate individuals
Communicate – Ensure systems are in place quickly and effectively communicate messages to groups of people as a whole
Register – Know who is in the building at all times and ensure they remain visible to staff whilst onsite.
These principles have been developed directly with schools to compliment and enhance their emergency procedures and protocols.
SchoolCare can offer the following School Safety Solutions that address all of the 4 key safety principles within 360 Safety in education:
• CCTV
• Access Control
• Public Address
• Visitor Management
SchoolCare has a vast amount of experience and knowledge designing and implementing ICT Solutions for the education sector, combined with a wealth of in house security sector knowledge and experience, ensures we are well placed to deliver best value school security and safety solutions to educational environments.
School security and Safety solutions isn't new hardware, CCTV and Access Control Solutions have been around for years, all typically functioning on their own separate infrastructures. Schools employing such solutions are criss-crossed with a web of coaxial and multi core cables making a deployment complex and an expensive task. With new technologies, we can deploy Safety solutions using the schools existing network infrastructure which keeps the capital cost to a minimum.
Contact SchoolCare to find out how we can help with your Security and Safety around school and to ensure you and your school are covered.