Classroom Management Software for Education
Imagine having up to an extra 14 minutes teaching time in each lesson!
Smart Sync Classroom Management Software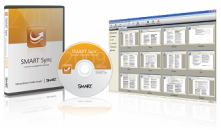 Smart Sync classroom management software connects a teacher's computer with every computer in a networked classroom and offers a variety of easy to use features that enable you to keep your school or college's students focused on learning and redirect their attention if they go off track. You can communicate, monitor or collaborate with students individually or as a group without leaving your own desk so everyone gets the most out of class time.
Studies have shown that Smart Sync from Smart Technologies can help reclaim up to 14 minutes of teaching time per lesson that the software is used.
Imagine being able to setup all class laptops with the correct document or web page for a lesson AT ONCE, or being able to blank laptop screens to stop your student's attention from wandering!
Cut down on lesson preparation: there is no need to photocopy worksheets; you can simply share the file with the entire class and collect it back in at the end of the lesson.
Collect and Distribute Homework; you will know instantly who hasn't submitted anything without having to look through a pile of papers. Instead the files are saved in a date stamped file within your documents, making file management easy.
Key Features of Smart Sync Classroom Management Software
Real-time thumbnails images showing each pupils screen activity
Remote access to pupils workstation
Easy distribution and remote launching of web pages, applications or files
Automated date, time and name stamping on returned files
Blocking web pages or applications to retain focus
Capture or highlight pupils screens to interactive whiteboard
Survey pupils with automatic response tally
Create and monitor chat sessions
Turn off all computers at the push of a button
---
AB Tutor Control ® Classroom Management Software
AB Tutor Control is PC remote classroom management software that has been designed for teachers who need to interact effortlessly with their students on an individual, group or full classroom basis using a very simple and intuitive user interface.
This remote control software enables teachers (or network administrators) to control a number of student workstations in a computer training room – or remote location – from one central workstation. Classroom groups and policies as well as Internet and application restrictions can be created by teacher or network managers to maintain security on large networks. This means AB Tutor classroom management software becomes a major component in maintaining e-safety in the classroom.
Key Features of AB Tutor Classroom Management Software:
Broadcast tutor screen to students
Show thumbnail of tutor screen to students
Record tutor screen for lesson playback
Show a student's screen to others
Annotate live demo
Monitor
Simultaneous watch by multiple teachers
Tabbed watch window – sizeable to client thumbnails
Create different thumbnail tab view for each group
Monitor and log student activity
Take snapshots of student screens
Record & playback student screen activity
Remote Control
Take over remote mouse control and keyboard
Share control with student
Launch and closedown applications remotely
Lock remote screen, keyboard and mouse
Classroom Management
Power up, logon and shutdown remote machines
Schedule remote shutdowns
Create classroom groups of users and computers
Block access to printers, USB drives, CD's and soundcard
Contact us to ask about a free trial or demonstration of how classroom management software can save you time and increase interaction in your classroom.