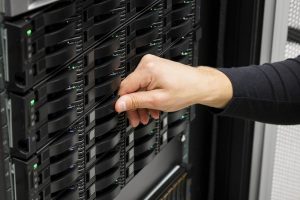 Technology is constantly evolving and this means hardware and software gets updated to embrace these updates and progressions.
Windows Server 2016 was released on 12th October 2016, since then we have been testing and introducing Windows Sever 2016 into our server installations with new server hardware. But did you know that your existing hardware may well be compatible with Windows Server 2016 as well?
By upgrading your existing server to Windows Server 2016 your school can benefit from the latest Operating System updates and improvements without the capital cost of new hardware. This is a great way to ensure your schools server is still running efficiently and improve its performance at the same time.
Why upgrade and have a Server Reload?
In order to fully manage and leverage the new features of the Windows 10 Operating System, servers need to be running Windows Server 2016. Whilst it is certainly possible to integrate Windows 10 with earlier versions of Windows Server operating systems, the ability to fully control and "lock down" the desktop operating system was only made available in Windows Server 2016.
Windows Server 2016 also includes a raft of new features centred around Virtualisation and Security. Windows Server 2016 has made huge advancements in Data encryption technology to protect sensitive school data as well as leveraging highly scalable virtualisation technologies such as Microsoft Hyper-V which helps schools get the most from their hardware.
How do I Upgrade?
To upgrade your existing server to Windows Server 2016 we would check to ensure it is compatible and will take the drivers for Windows Server 2016. We would also check that your server has a suitable specification.
All the data on the existing server would be backed upand take notes of all settings and configurations. Once this has been done we wipe the existing server and it is at this point if you are adding additional RAM or Hard Drives these would get installed. The server is then reloaded with the new operating system and once this has been completed we will then install NetCare Solutions Suite.
The NetCare Solutions Suite is developed in-house by SchoolCare, and is a network management solution for schools. Making use of the new updates in Windows Server 2016, NetCare consists of a customised Active Directory infrastructure and a suite of ICT management tools.
Once NetCare has been setup and configured all of the data is transferred back and the existing settings are inputted back into the server. From this point the imaging and testing process can begin to ensure all PCs and Laptops are connected back to the server.
Whether the school already has our MyCloud Offsite backup solution or have opted to use it as part of the server reload, this is then configured on the server to ensure the schools data is safe.
MyCloud Offsite Backup is the best way to ensure that your school data remains safe and secure in the event of a server failure. This will enable the school to recover all of their files and get back up and working quickly if the worst should happen.
Contact us today to see if your existing server can make the most of the benefits of Windows Sever 2016 and a server reload.