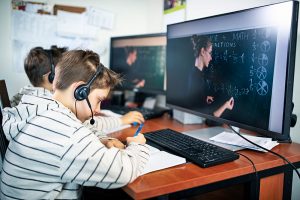 As we all wait to see what the "new normal" looks like and how it will change our every day life, schools are looking to deploy effective cloud based learning solutions which can deliver high quality teaching and learning from anywhere to anywhere on any device.
SchoolCare are offering a completely free deployment and integration of Office 365 and a Free NetCare cloud license with the first year of support.
Social Distancing restrictions are likely to have a profound effect on how teaching can be delivered in a traditional school environment, whether this means a program of rolling onsite teaching, coupled with remote teaching or a continuation of external cloud based learning. The key requirement for any cloud based learning solution is to ensure the same teaching experience is delivered to pupils in class or working from home simultaneously.
SchoolCare's NetCare Cloud solution is the missing link for customers looking to deploy an effective cloud based learning environment. NetCare Cloud allows the rapid deployment of Office 365 as well as a turning it into a fully featured Digital Classroom environment. Teachers can use tools integrated into Office 365 and NetCare Cloud to allow them to teach lessons to pupils in class and online simultaneously or exclusively online, no matter what device the pupil is using.
To get the full value from Office 365, schools ideally need a solution to turn it into a full learning platform.
Over the past 18 Months, SchoolCare have developed their NetCare Cloud solution which turns Office 365 into a complete Cloud Learning based learning platform and introduces important features such as:
Deliver targeted audienced content to pupils based on class or subject.
Complete integration with tools such as Microsoft Teams, Microsoft Stream and Microsoft Sharepoint.
Full digital classroom and cloud based learning experience
Integration of all aspects of the school environment with a fully branded solution.
The DfE are offering schools support with the deployment a cloud based learning solution (either Microsoft Office 365) or Google Apps. As a Microsoft Partner SchoolCare believe that Office 365 is the best cloud based learning platform for education, especially given the feature set and familiarity baked into the solution.
DfE support for deployment of a cloud based learning platform extends to the setup of your tenancy (in the respect of Office 365) and setting up integration with on premises Active Directory. This allows students to securely login using their credentials and access tools such as Microsoft Teams.
SchoolCare are offering a completely free deployment and integration of Office 365 and a Free NetCare Cloud license with the first year of support, no forms to fill out, just drop our sales team an email to sales@schoolcare.co.uk