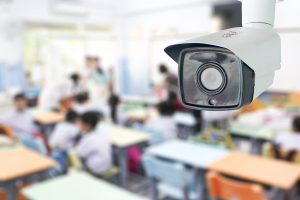 As a long standing ICT Solutions Provider (since 1983), SchoolCare have been designing and implementing bespoke ICT Solutions all over the UK. Until recently the domains of physical security and ICT have been very separate with little overlap, however in the recent years the security sector and particularly their products have become more integrated with ICT and Networking.
From day one ICT solution providers have been focused on the core of the network outwards towards the devices which are connected to it and have developed in depth knowledge and skill sets concentrating on the network itself, moving forward ICT solution providers such as SchoolCare are working with schools to deploy IP based CCTV and Access Control solutions over the school's existing infrastructure.
Planning and implementing a successful Security Deployment (CCTV or Access Control), relies heavily on understanding and configuring the underlying network to ensure it remains reliable and crucially secure.
SchoolCare are increasingly seeing installations of CCTV and Access Control products, which haven't been configured correctly, with issues such as IP Address Conflict and VLAN issues causing cameras and doors go offline, or be accessed by individuals who shouldn't have access.
Installations such as this often cause conflict between the security installer and the ICT support organisation about whose responsibility an issue may be, or indeed incur additional configuration costs for the school at the time the CCTV or Access Control project is deployed.
By drawing on in-house expertise for both the network design and the security design aspects, SchoolCare assume responsibility for the entire deployment, offering turn-key security and safety solutions.
From working with in house ICT teams to deliver VLAN and IP Addressing Specifications to undertaking the configuration of networking devices, you can be sure of a fully supported solution end to end, without and buck passing between organisation's.
The deployment of an IP based CCTV or Access Control solution is not something to be undertaken lightly, neither is it something to be scared of. IP networks offer the greatest flexibility in deployment options and offer best value to schools by leveraging existing networking where possible, rather than relying on dedicated infrastructure.
Multi Academy Trusts can benefit greatly from IP based Access Control and CCTV solutions, in their drive for efficiency and streamlining, allowing buildings to be centrally managed by a trust team over a Wide Area Network.
SchoolCare are Paxton Gold Installer Accredited as well as holding accreditation's from key vendors in the security industry such as HikVision and TDSI.