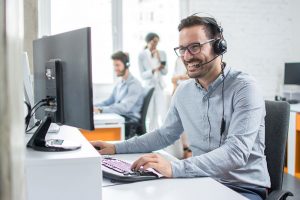 SchoolCare offer complete IT support for Hampshire schools. We can take over or assist in starting a whole new support package that works for you. SchoolCare's offices are based in Hampshire, but we cover sites nationwide. IT support for Hampshire Schools is a necessity as it is for any county and as such ensures your school can deliver teaching and learning with a wealth of technological resource.
SchoolCare can offer Support both remotely and onsite. This means any problems can be dealt with quickly and conveniently so as not to disrupt learning and the School Day. Proflex support from SchoolCare for Hampshire Schools is a unique package designed to constantly have your school needs prioritised.
Proflex offers pro-active and flexible support that allows you to utilise our engineers at times that suit you. It's a one of a kind solution delivering IT Support for Hampshire Schools.
Proflex IT Support for Hampshire Schools includes;
Support that's regularly scheduled – Visits can be arranged weekly, fortnightly or monthly to give you a peace of mind (bespoke options are available too)
Scheduling that's flexible to suit you – Make the most of your budgets by scheduling or rescheduling ICT visits to suit your requirements
Top-up Support – Control costs and avoid call-out fees by adding extra time when needed to create support that's customised to your School
Remote Monitoring – Off-site monitoring that checks server vital signs such as disk space, backup, memory usage and anti-virus updates etc
Remote Support – Support that's kinder to the environment, has a faster response time and lets remedial work happen quickly
Network Consultancy that's free! – On site surveys and consultations can be provided and carried out by a member of our highly skilled team.
Emergency Support – If an urgent matter ever occurs, you can call an engineer out (separately charged)
Helpdesk Support Line – Telephone helpdesk support from 0800 to 1730, raise issues through our online portal, or email us and we'll endeavour to get back to you as rapidly as possible
SchoolCare takes IT support for Hampshire Schools seriously. We understand that choosing a support provider needs to be strategic and informative, so SchoolCare are always happy to answer questions you might have. We're invested in our customers and know that IT assistance is of high importance in Education and therefore our IT Support for Hampshire schools is constantly being enhanced to ensure the best service for your School.