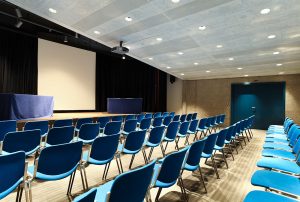 School Hall AV systems comprise of both sound and visual components that offer a variety of different features that can be imperative to a bustling and lively school Hall.
School Halls are used for everything from indoor PE lessons, to Christmas carol concerts and here at SchoolCare, our aim is to make each and every occasion run as faultlessly as possible, from our media players, to our projectors, School care can turn your school hall into the most dramatic theatre or the most intense of spellings B's.
School Hall AV Systems are paramount to any educational facility, as well as their extra circular uses, they are invaluable for SATS, recorded tests, Assemblies and guest speakers/announcements. We can work to any budget, timescale and distance within the UK as we aim to put our customers and their needs first, allowing us to consistently provide great aftercare as well as maintaining loyal customers and continually growing our client-base.
School Hall AV systems have been around for over 20 years, however new technology enables much more than traditional Music and Microphone use. Your current School Hall AV system may be outdated and the thought of upgrading your system might be daunting and seem time consuming, however at SchoolCare we endeavor to make our customers pre-sale to post purchase journey as simple, efficient, and satisfactory as we can.
These days, the most commonly used element of School Hall audio visual equipment is the projector. Coupled with a good audio system a modern school Hall AV solution can be used to create engaging Audio Visual Experiences.A Great School Hall AV System could lead to greater pupil participation and higher levels of attention retention making Teacher's job that little bit easier, well, at least for a short amount of the day!
Contact us today for a quotation for your Hall AV requirements