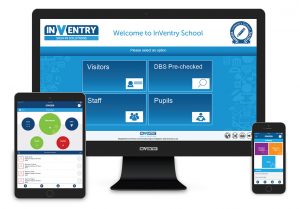 Knowing who is onsite both in terms of staff, students and visitors has never been more important, not only in the event of an evacuation, but making sure that visitors are supposed to be there and that they have left the building.
The modern social climate reinforces the need for effective visitor management and school sign in, including who is signed in and with whom and when. It is the schools responsibility to maintain these records accurately and in accordance with GDPR.
The Signing in Book has been the age old method of "visitor management" determining who is in the building, however during busy periods, it's not always possible to ensure that individuals are signed in correctly, or indeed signed out. The signing in book is often coupled with a visitor's badge or pass which should be issued and collected accordingly. Badges and passes often get lost, or people leave with them, representing not only a cost to the school, but a significant security risk. The fact that signing in books contain personally identifiable information also presents some GDPR challenges.
SchoolCare have developed a portfolio of IT Focused safety and security solutions called 360Safety, this includes solutions for CCTV, Access Control, Public Address and School Sign in.
Electronic School Sign In solutions are becoming more prevalent and the School Sign In Solution from InVentry is one of the best on the market, offering not only a class leading feature set, but also offering best value.
InVentry's School Sign In solution offers a complete, easy to use, GDPR compliant, School Sign In solution with links to popular school MIS platforms like SIMS and Arbor ensuring that all data is collected and handled effectively.
The School Sign in Solution from InVentry tracks staff, student lateness and visitors all from a single touch screen. Staff can "touch" in and out using their Staff ID cards (this can be integrated with your existing Access Control Solution), making the tasks of coming and going very easy.
Visitors are invited to sign in using the touch screen, select their sponsor (the person they are due to meet with) and are issued a badge, clearly showing their photograph (captured at the terminal). Details of the visitor's arrival can be emailed to the sponsor, alerting them accordingly and full details of their visit is recorded accordingly. Student lateness is recorded in a similar way with students invited to "sign in" when they are late, recording their reason and also a photograph to make sure the correct person is signing in.
The system maintains a log of all movements in and out of the school and can generate a fire roll call on a connected device such as a Tablet, combining attendance information from the MIS platform, with information captured at the sign in terminal. This fire roll call can then be used to mark people present directly on the tablet to confirm their presence.
Signing out is as simple as signing in, with staff presenting their ID to the terminal to record their leaving and visitors scanning the barcode which has been printed on their self adhesive badge or tapping their photograph on the screen to note they have left.
SchoolCare offer a complete design and installation services, along with no obligation consultancy to help your school design and implement an effective visitor management and school sign in solution.