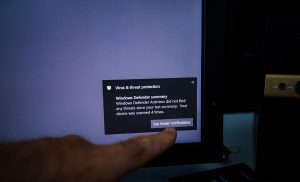 Windows 10 is latest iteration of the Windows Desktop Operating System. Windows 10 in Schools is needed to maintain performance and protect files and data. The most recent version of Windows benefits from improved and guaranteed stability and performance.
From January 2020, Microsoft no longer supports security or technical updates with Windows 7, meaning that computers running Windows 7, are at risk. Windows 10 in Schools is needed to eliminate the issues surrounding having no support from Microsoft. Having no support, for technical and security issues could result in large amounts of data, personal information and files being put at risk. Within any personal setting this is dangerous, let alone in a School, where hundreds of pupil's data and work could be exposed.
If your school hasn't yet updated to Windows 10, don't worry SchoolCare can assist you with every step of the way. From sorting the licenses, to building and deploying the Windows 10 image for you, SchoolCare will be on hand to help every step of the way.
Windows 10 in schools, will allow you to get the most from your hardware and includes important features like, built in end-to-end fully comprehensive security, built in antivirus and firewall, password free sign in so you can use your fingerprints, face and companion devices to unlock.
Windows 10 also enables you to share your files with other computers, anywhere, at any time, by integrating seamlessly into Office 365 and OneDrive, an invaluable feature as schools move towards a hybrid cloud environment.
Windows 10 in Schools will assist in making teacher's lives' easier as Pupil's have access to the newest software available, meaning that their needs can be met far easier than with the outdated, limited ability older versions.
Contact us today to see how we can assist your school upgrading to Windows 10.